Two Classy Chicks!
http://twoclassychics.com/2013/07/laura-tarbells-pilates-dvds-including-yoga-for-runners-review-giveaway/
I am a runner… Okay, I am a jogger. Who am I kidding? I am a Runner/Jogger/WALKER! My issue in running is that I will start out strong but eventually just burn out. I try my hardest to do the best I can when I am going out for a run, but if I push myself too far, I can risk injury (and usually succeed in such). I have not seen myself improve on my own, so I got very excited that I was able to try out 3 different DVD's by Laura Tarbell, the first one being Pilates for Runners.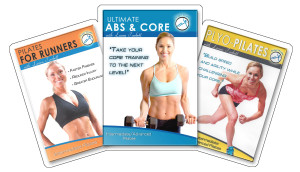 I tried the DVD Pilates for Runners with Laura Tarbell. I enjoyed her workout video program because I had direction. Tarbell gives clear and precise guidance. There was a good, steady flow, where there was no rushing through the workout. Pilates for Runners is not a high-impact workout, but it definitely is on the intermediate level. As I am somewhat in between beginner and intermediate, certain moves were challenging. However, there are available modified demonstrations, which were fantastic—I still felt that I was using an effort. I know once I do improve, I will attempt the more intermediate and advanced level demonstrations. I also did not need any kind of workout equipment, just my focus on my form and control (I did use my mat, but it is not required).
Pilates for Runners is a 60-minute intermediate level program is all about helping improving running efficiency by:
• Creating a stronger, more flexible body
• Improving body alignment
• Finding balance
• Using energy more effectively
Doing this equals faster finishes of your run, reducing your injuries, and being able to experience greater endurance.
I also tried Laura Tarbell's Ultimate Abs & Core. Since this is an intermediate/advanced Pilates program, be ready for a challenge! A stability ball is required, but the exercise mat, weight, and foam roller are optional. This 60-minute program engages the abdominals and the core with unique, dynamic sequences. Designed to target the deep, hard-to-reach muscles of the abdominal region, this workout produces visible results after just a few sessions. I certainly felt the victory pain of soreness the next day!
Another core-engaging video I tried is Laura Tarbell is the Pylo-Pilates DVD. This minute workout builds speed and agility by combining plyometrics and Pilates (thus the term Plyo-Pilates). This workout is INTENSE! A stability ball is required, the exercise mat is optional. It guides you through ten intervals of explosive plyometrics drills followed by core-focused Pilates exercises. This is a program that teaches the body to maintain core stability while performing at maximum level. My heart was certainly pumping!
I am very glad in being able to try these amazing workout videos! You get a Pilates instructor personally at the home without the price of a personal trainer… only $15.00 EACH! LauraTarbell is a certified STOTT Pilates instructor and holds a variety of other certifications. She is a proud wife and mother of two sets of twins, ages 3 and 10 months. If you really want to develop your core and challenge your body, follow the principles of Tarbell's Pilates, you will reach success and feel your own victory!